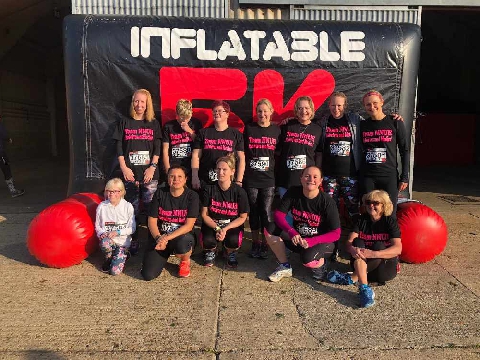 Sarah (back right) seen with some of her colleagues at a previous event (NNUH)
Staff at the Norfolk and Norwich Hospital (NNUH) are teaming up for a marathon later this month in honour of an ill colleague. 
Dr Sarah Knapp, a Senior Registrar, suffered a stroke during training for the London Marathon earlier this year.
It meant she could no longer take part in the annual race despite making good progress in her recovery so far.
To support her Sarah's colleagues, who work alongside her in the Obs and Gynae department, have organised their own marathon in the hospital grounds.
Jo Knox, a midwife at NNUH said: "Sarah is a wonderful member of our close-knit team and we wanted to do something to show her the support she has from everyone.
"We felt that taking part together and undertaking the marathon would be a fun way of doing that".
The staff will each be completing a section of the 26-mile course, replicating the distance of the London Marathon.
The money raised during the event will go to the hospital's maternity unit and Sarah's chosen charity, Heads Together.
The mental health charity is aiming to tackle the stigma around mental health, and is backed by the Duke and Duchess of Cambridge and Prince Harry.
Alongside her supportive friends and family, Sarah will walk one mile of the course.
She said: "Discovering that I had a stroke was such a shock, especially as I was the fittest I have ever been.
"However, the love and support that I have received from colleagues, friends and family has been overwhelming.
"I am so grateful to everyone who is taking part in the run and hope that we can raise as much money as possible for Heads Together and the NNUH maternity unit."
The marathon will take place on Sunday 28th April in Norfolk and Norwich University Hospital grounds.