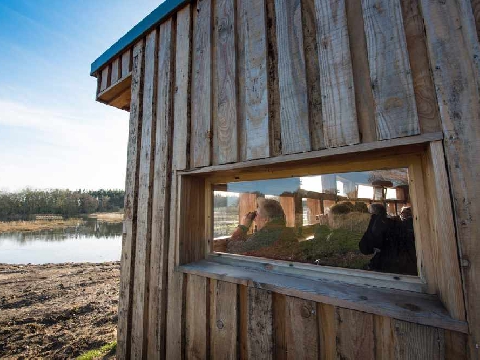 Pensthorpe Natural Park has unveiled a new hide which allows visitors to see a previously unseen stretch of the River Wensum.
The hide, which opened this week, is designed for use by school groups as it can fit an entire classroom worth of people inside.
This will be the first time in ten years that Pensthorpe, near Fakenham, have opened a new area of it's 700-acre estate.
The hide was funded by the National Lottery Heritage fund with the aim of revealing the secrets of the river, as well as the hundreds of species of birds that live there.
Over fifty thousand pounds has been spent creating the hide which boasts extra large viewing panels specifically designed for educational activities.
Richard Spowage, Reserve Manager at Pensthorpe Natural Park, says: "The educational possibilities opened up by the new hide will enable us to excite the next generation about both the fragility and prosperity of the natural world and teach them the characteristics that make the Wensum Valley so special."
The funding also allowed a stretch of the river to be fully restored with a sustainable drainage system meaning species, such as water voles and kingfishers, can thrive.
Some of the creatures that can be seen from the hide are Bitterns, Reed Warblers, Marsh Harriers, Reed Buntings, Otters and Cranes, with reports showing the rare Garganey and Great Egrets can also be seen.
Bill Jordan, owner of Pensthorpe Natural Park said: "With the river restoration now complete and the habitat flourishing, it is with great excitement that we can now open the windows of the new hide to give visitors a ring-side seat to the real wonders this stretch of the Wensum has to offer.
"This new hide is on the opposite side of the reserve to our popular Wader Scrape and we hope it will encourage our visitors to explore the site even more."
Pensthorpe Natural Park are looking for volunteers to be involved with the conservation of the park, and ask anyone to visit their website to apply.
Image: Pensthorpe Natural Park