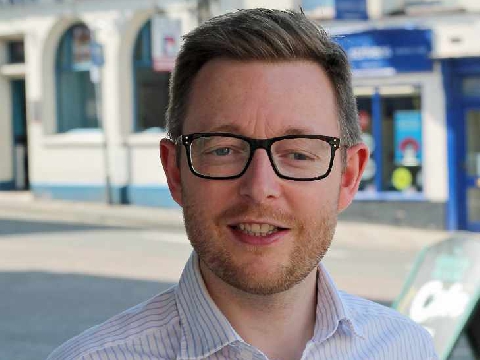 Duncan Baker secured his seat in North Norfolk in December with a majority of over 14,000 votes which saw the Liberal Democrat's 18-year run in the area come to an end.
The election also saw the Conservatives share of the vote go up by 16.9% compared with the results in 2017.
Prior to the election campaign starting, Sir Norman Lamb, who'd been North Norfolk's MP since 2001, announced he'd be stepping down to pursue further charity work. Mr Baker told us he was aware he had big shoes to fill: "Sir Norman Lamb was a very well respected MP and even in Parliament from across the parties, when I say I'm the new MP for North Norfolk, and they say you've replaced Sir Norman, jolly nice chap."
With North Norfolk now blue for the first time in almost two decades we went to find out a bit more about the new MP and his plans for the constituency.
Who is Duncan Baker?
Duncan Baker describes himself as "North Norfolk through and through" having been born and raised in the area, and with the exception of some time away for University and the start of his career, he has lived and worked in the county for his entire life.
Previously a businessman, Mr Baker has also spent some of his time over the last 11 years working in local politics. He told us his interest in politics stems from a passion to help people, with his late stepfather suggesting getting involved in the local council as a good place to start.
Mr Baker begun his career in politics as a Town Councillor in Holt before going on to be made Mayor of the town, and then a District Councillor. For the past year, he's been the group leader of the Conservatives.
The Election:
Having spent time in local politics Mr Baker told us there was a turning point around a year ago which prompted his decision to run as an MP: "People started to say to me, you'll be our MP one day after Sir Norman steps down.
"And of course, that wasn't something at all that was on my agenda.
"I was absolutely flattered and humbled that people thought of me in that way.
"And from that was the conversations because it's a huge life-changing thing to do, but we sat down me and my family and we discussed it and we said that this would be something where you can begin to make a real difference and you can really help shape the area that you were brought up in.
"And that's what I decided to do, never in my wildest dreams would I have imagined that within a year, I would be the MP."
Mr Baker puts the success of his campaign down to a number of things including the hard work of his team, the resignation of Sir Norman Lamb, and North Norfolk having voted 58.9% in favour of leaving the EU: "He was a great local MP and when he stepped down that bank holiday, we knew that gave my chances an even better opportunity.
"The electorate were also extremely fed up of what had gone on for the last few years, and they wanted to change and it's almost like a second election to say we want to get Brexit done.
"This was a leave area, I was somebody who's always been a Brexiteer and had backed democracy and what the country wanted.
"And I think with those things going hand in hand together, we knew we were at least delivering on what people wanted."
What is Westminster like as a new MP?
Mr Baker was among 109 new MP's to step foot in the Palace of Westminster as elected officials for the first time just before Christmas and he told us a little bit about the experience: "It was very emotional, I mean, you're walking around the Palace of Westminster.
"It's a building steeped in history.
"It's enormous by the way, you get lost within minutes.
"But all the MP's, all the house staff, the people there to protect you, the police services, security, I cannot tell you they're such a wonderful bunch of people that are so kind and so welcoming.
"But that first few days, you're thinking to yourself my word look at this responsibility, look what you've achieved.
"I mean you wake up on the Friday morning to be the new MP, and then you're on a train down to London on Sunday afternoon, and the parliamentary services are booking your accommodation.
"And so it all happened very quickly that first week."
Mr Baker often shares some of his 'behind the scenes' experiences at the palace with his followers on Twitter.
Only for members we all have our own 🧥 hanger by constituency. This is just below the chamber. The pink ribbons are a throw back to when MPs would leave their swords in the boot room. Some MPs have plastic ones in their ribbons! #nostalgia #history #tradition pic.twitter.com/UeSaB11vdj

— Duncan Baker (@duncancbaker) December 24, 2019
Another behind the scenes... only MPs get to enter the 'tea room'. This is where only members can have meetings, something to eat or just a catch up ... it's where the gossip happens and it's just for us! I found it empty so thought I'd share! pic.twitter.com/KiG5EkC4GZ

— Duncan Baker (@duncancbaker) January 2, 2020
With many experienced MP's and a lot of new voices all eager to be heard in Westminster we asked Mr Baker what he was going to do to ensure the needs of people in North Norfolk are heard in the capital: "The biggest difference that North Norfolk will benefit from is by having an MP who is in the government, because when you're an opposition party, it's a much smaller minority.
"You know, I've got access to ministers very easily, a direct line hopefully to Downing Street.
"And that makes such a big difference, plus there's that network of established MP's to be able to support and help show you the ropes and working together, joined up with other Norfolk MP's as well who are largely now all Conservative.
"So I think there probably won't be a problem with me getting my voice heard."
Brexit:
With the 31st January deadline for the UK's exit from the EU fast approaching, Mr Baker told us whether he thinks a deal is possible by the end of the year as promised by Boris Johnson during the election campaign: "I tell you it's been really positive, we will get a deal in place.
"I don't think we will see a no deal situation.
"I've always been honest and said to people I'm not afraid of a no deal situation, this country voted to leave the European Union.
"But I think we're going to get some really fantastic trade deals in place by the end of the year.
"And I'm an optimist, I'm positive this country is going to go forward, it's going to be amazing."
What are your priorities for local people?
As well as getting involved in national issues in parliament it will be down to Duncan Baker to represent the residents of North Norfolk in Westminster. We spoke to him about a range of local issues, you can see his answers below.
NHS:
Following the recent announcement by NHS England that the Norfolk and Norwich University Hospital had some of the worst A&E waiting times in the country, we asked Mr Baker what he planned to do to help improve the healthcare system in North Norfolk: "You know now we're in a situation where most of the Norfolk MP's are Conservative.
"We will be able to work together because this is an issue that affects all of us.
"We will sit around the table, we will set the priorities and agenda, the things we want to tackle.
"The Health Secretary is not that far away in terms of his constituency locally to us as well, so there'll be a number of things that we want to talk to Matt about to try and improve the services here locally.
"Now you know the Government have committed to putting the most amount of money ever into the NHS, £34 billion, and that is going to make a difference but it will take time for that to filter in."
Agriculture:
With North Norfolk being such a rural area which relies heavily on industries such as farming we asked Mr Baker about his plans to ensure farmers are supported: "The farming industry in North Norfolk is our lifeblood.
"They are the people that put food on our plate and without them and without being supported, you know, we won't have the food necessary for us so they're incredibly important to me.
"Soon I'll be meeting with the NFU, I've already written to some of the ministers who are involved in the agricultural sector and DEFRA, making sure North Norfolk gets the support it needs.
"But again the really good thing about having MP's are from the same parties, we will work together, and we will tackle issues together because actually when you work together you are a far stronger outfit and that would benefit Norfolk."
Rural broadband and mobile phone signal:
As well as supporting farmers one of the other issues Mr Baker told us he considered important was improving phone signal and broadband speeds in rural areas to benefit not only local residents but also businesses: "When the mobile phone licenses renew, all the operators will now be sharing their masts and infrastructure, which is fantastic.
"So if we're in a rural area and we have particularly good mobile phone reception with one operator but not the other, because now the masts and infrastructure are being shared, we should be able to be getting better signal.
"Hopefully we'll see some of those benefits coming through this year, and that's the Conservatives who've put that in place.
"You've heard that broadband is now being focussed on and of course, in the manifesto, there was £5 billion that was being allocated to improvements in broadband, in particular our rural areas.
"I do get a lot of constituents who come to me and say, you know, our broadband isn't good enough.
"And again, actually working in tandem with not just government but also our county council as well, we can make improvements to our broadband and we'll start to see that come."
Public transport:
With one of the oldest constituency demographics in the country and with North Norfolk being made up mostly of small towns and villages, a good public transport infrastructure can be vital for residents. Mr Baker acknowledged the improvements already being made to local train networks but added that more can always be done: "We've started to see some of the new trains come on board, and of course I've actually heard nothing but good things about those, yes we want the service to run properly, but actually having the new trains on the line is a good thing.
"I'm in regular contact with Greater Anglia, you know, being updated, monitoring, feeding back the issues that I'm hearing about to really help and make the service better.
"And buses, again, we've seen the government saying that they're going to invest hugely in infrastructure.
"We keep hearing this phrase that, you know, this is a government that is going to be pushing an infrastructure revolution, and I do believe that.
"I want to make sure that we do have good rural bus networks because want to be able to get out and about into the shops, get into our towns, we've got some beautiful parts of the countryside, and it's no good if you can't actually reach them because you can't get a bus to move from where you are.
"So these are all area priorities that we want to make sure we get right."
What does the future look like for Duncan Baker?
With the first few weeks as an MP under his belt we asked Mr Baker whether we might see him in more senior government roles in the future: "I think at the moment there's an awful lot to learn.
"I want to concentrate on ensuring that I'm doing a good job locally, that's my number one priority.
"The first priority is to be a good local constituency MP, carve out that niche, those things that you want to do for the area.
"I think that we'll see in time probably areas that I really want to get into, and whether there's going to be aspirations that go beyond being a constituency MP, but I think that that's the first port of call.
"And then we'll watch and we'll see what happens over the next few years."