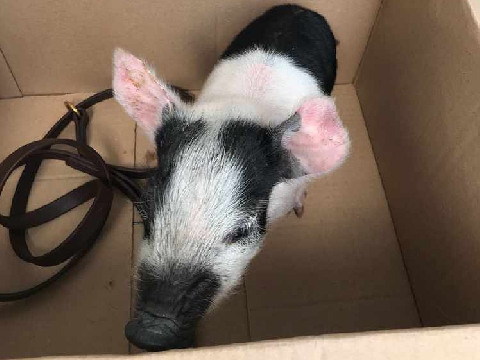 A man from Norwich is facing a charge of 'having a pig untethered and loose on a public highway' after officers confiscated it on Prince of Wales Road yesterday.
Police were called to Prince of Wales Road at 10.10am to reports of a man shouting and being aggressive and abusive.
When they arrived one of the officers attending was bitten by a dog, and while all this was happening they also found a pig running around the street.
They subsequently detained a 27-year-old man under a public order offence, and he has since been charged with both having the pig loose and allowing a dog to be out of control.
Thomas Murphy-Hankin, of no fixed address, will appear at Norwich Magistrates Court today.
The pig was taken away by the officers in a cardboard box and is now in the care of the RSPCA. Norfolk police say they do not know where it came from.
A male has been remanded in custody after committing a public order offence, having his dogs dangerously out of control and having his pig untethered on #PrinceOfWalesRd #Noriwch #Policing @NorfolkPolice @NorwichPoliceUK #JobLikeNoOther pic.twitter.com/SPLwxKEX01

— Mark Shepherd (@SgtMarkShepherd) August 9, 2018
Image: Sgt Mark Shepherd