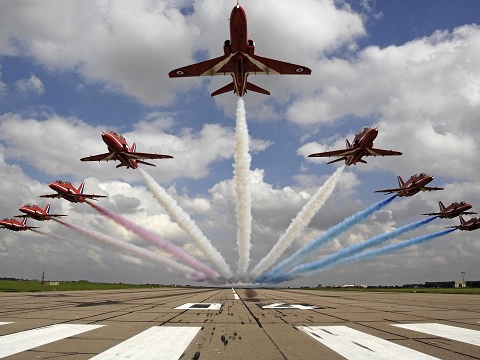 The Red Arrows will be flying between 3pm and 4pm on both days of the Great Yarmouth Air Show.
Organisers have announced the flying schedule, which features the crack RAF team at prime time on both the 16th and 17th June.
Ian Sheeley, Flying Display Director, said: "We normally build the schedule around the Red Arrows, who often have other shows to do on the day – but this time we are lucky, we have them to ourselves – which is very rare - and have been able to put them in a prime time slot for the maximum crowds.
"We shape the rest of the show around the Red Arrows, and the Battle of Britain Memorial Flight, which often has other commitments too, looking to provide a variety of displays for the crowds. It is looking like a really good line up for the first year."
The Red Arrows will be spending the weekend at Norwich Airport - they're usually based at Scampton in Lincolnshire.
More than 175,000 people are expected to flock to the seafront to watch the show, which is expected to boost the local economy by £10m.
Provisional schedule
Saturday June 16th
1-2pm: Battle of Britain Memorial Flight (Lancaster, Hurricane, Spitfire); Long EZ flying wing; The Blades aerobatics team of four Extras performance monoplanes; Tigers Army freefall parachute team
2-3pm: Bremont Great War Display Team; RotorSport Calidus autogyro; Wildcat Aerobatics biplane duo
3-4pm: RAF Red Arrows; Bronco 1960s recce and attack aircraft; Strikemaster jet; Catalina flying boat
4-5pm: Vampire vintage jet pair; AeroSuperBatics Wingwalkers; G-EWIZ Pitts Special; Spitfire Mk IX

Sunday June 17th
1-2pm: Tigers Army freefall parachute team; Long EZ; G-EWIZ Pitts Special; Strikemaster jet; RAF Tutor T1
2-3pm: Battle of Britain Memorial Flight fighter pair Hurricane and Spitfire; Bremont Great War Display Team; RotorSport Calidus autogyro
3-4pm: RAF Red Arrows; Bronco; Wildcats; Catalina
4-5pm: Vampire vintage jet pair; The Blades; AeroSuperBatics Wingwalkers; Spitfire Mk IX