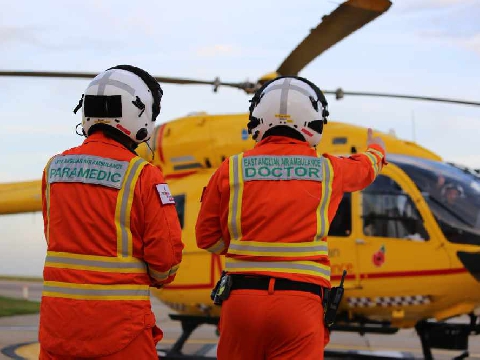 Picture credited to East Anglian Air Ambulance
The level of care patients receive shouldn't be determined by the time of day, according to the East Anglian Air Ambulance. 
Next month the organisation's going to be launching a fundraising campaign to operate 24-7 - currently they don't fly between midnight and 7am.
They want to raise £13 million in order to launch the service next year.
Nicki Blake from the charity says care should be of the same standard at all times of the day:
"We're really passionate about the fact that the level of care you receive shouldn't change, wherever you arrive at 2am or 11pm.
"We want to change how things are at the moment."
Nicki told us they're aiming to go 24 hours by 2020:
"We're going to require a lot of community support to achieve our goal.
"It's estimated it's going to cost around £1 million a year to get there."