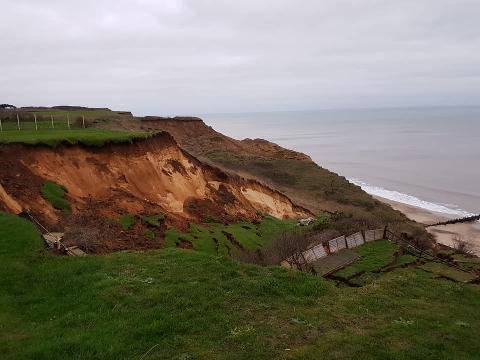 Photo by: Amanda Stephens
People from four caravans in Trimingham have been moved out following the partial collapse of a cliff edge.
The Maritime and Coastguard Agency has urged people to avoid the beach area in the vicinity of Trimingham House Caravan Park site following the landslide on Monday 6th January.
They had this advice for local people: "The cliffs along the UK coastline are continually eroding, with pieces falling from them that can be just a few small rocks or as large as a car.
"It's impossible to predict when the next piece might fall or how big it will be.
"We've seen a number of cliff collapses around the coast in recent months, particularly after intense rainfall.
"It's very that cliffs are very unstable in places.
"We really can't stress enough how important it is to keep back from the edge.
"There is no 'safe' place to be.
"Some of the cracks that have appeared have been several feet away from the edge.
"As ever, our message is to keep safe, but if you see anybody in trouble or if you get into difficulty, call 999 and ask for the Coastguard."
Various agencies including Norfolk Police and Norfolk Fire and Rescue have been informed about the incident.