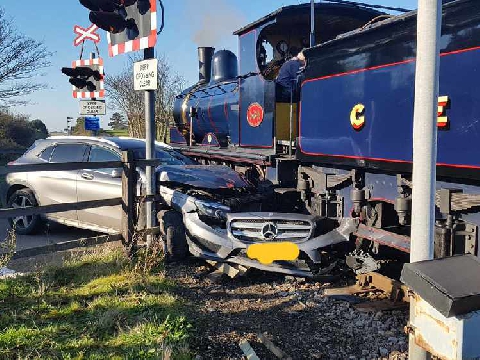 The scene of the crash - picture credited to PC Jon Parker/Norfolk Police
A driver in North Norfolk has had a very lucky escape after his car crashed into a steam train at a level crossing.
Emergency services were called to the crossing near Sheringham Golf Club yesterday morning (Saturday 17th November).
They found a seriously damaged Mercedes car, but it's thought the driver wasn't injured.
The train was also said to have escaped any serious damage.
The driver and a fireman were only the people on the board on the train at the time - they both weren't hurt.
An eyewitness said he heard the level crossing flashing and then suddenly there was 'a big bang'.
Lots of people went out to check if everyone involved was okay - and that's when the driver is said to have walked out of his car.
The rail line and road were blocked for a number of hours before they later reopened.
PC Jon Parker from Norfolk Police sent this tweet from the scene.
Currently on scene at a train vs car incident. Unsurprisingly, the train emerged the victor. Nobody injured fortunately but crossing to Sheringham Golf Club will be blocked for an hour or so. pic.twitter.com/XSDWQyQkFU

— PC Jon Parker (@PCJonParker) November 17, 2018
The incident's reportedly been referred to the Rail Accident Investigation Branch, but it's not yet known whether an investigation will be carried out.