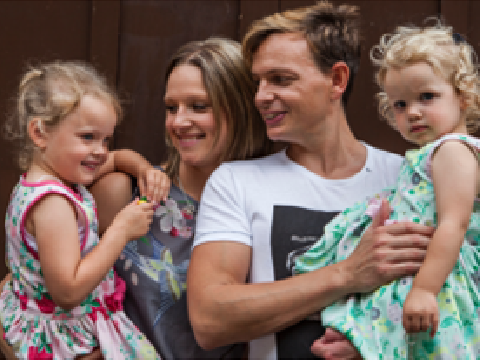 A dad of two from Norwich is aiming to crowdfund £70,000 to help fund treatments for his rare strain of pancreatic cancer. 
Damion Burbank, 38, has Acinar cell carcinoma, which can be found in around 1% of those suffering with pancreatic cancer.
He moved back to Norwich with his wife Emily and daughters Arabella and Olive, who are five and three respectively, after after being initially diagnosed in 2016.
After a successful period of treatment Damion was given the green light in November 2016, however scans a year later showed the cancer had returned.
Damion's wife Emily, who created the fundraising page, said: "Damion is about to complete six more cycles of chemotherapy in the hope of getting the disease under control.
"However, this type of chemotherapy, cannot be sustained in the long-term as it severely weakens the immune system, can cause other serious health problems, and increases the risk different cancers appearing due to the toxicity of the treatment.
"After this cycle of treatment is complete, the only option for Damion if he stays with the NHS is palliative care involving chemotherapy and radiation treatment. This will not address the underlying issues and the prognosis for this approach is very poor."
The Burbanks are now looking at other treatment options, but they would be at clinics abroad which they cannot currently afford.
The money raised will, in the first instance, go towards genetic testing, which will then determine which of the treatments he could receive.
Emily added: "We are looking at a range of clinics that offer the latest cutting-edge treatments, which include immunotherapies, stem cell therapy, cryo-therapy, targeted chemotherapy, non-evasive radiation, regional and whole body hyperthermia, proton therapy and many others."
The family are organising a series of fundraising events in the coming months - in April Emily and some friends will be running the Norwich half marathon.
(Photo: Emily Burbank)